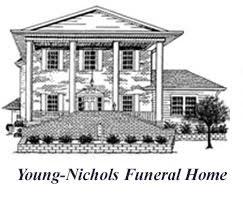 Being in the funeral business since 1852 means we have seen many changes in the industry.  One of the more recent changes (in the context of 170 years!) is the growth of funeral pre-planning.  At Young-Nichols Funeral Home, we have seen many reasons for this trend and are here to help you with your planning.
There are several reasons people have turned to pre-planning.  The most important reason is the fact that you get to control your final wishes.  You can plan traditional burial or cremation, what type of service you would like, which casket, vault, or urn – there are many choices that YOU can make now before you pass away.  This also takes the burden away from your family trying to decide what you would have wanted.  There are many, many decisions that need to be made once someone dies.  Pre-planning can guide your family through this difficult time.
Pre-paying your funeral now can also relieve your family of the financial burden of your final expenses.  When funeral expenses are paid in advance, the Indiana Funeral Trust law directs that the funds must be invested and the funeral home's services and merchandise are guaranteed to be delivered at the time of need.  We are always looking for the best investments to ensure the greatest return for your funeral trust. This protects both of us.
Another aspect of funeral pre-paying is the protection of your money in the event you need Medicaid help for nursing home care and unforeseen medical expenses. Once your funeral trust is created, it is protected from Medicaid.
Many families have come in to our funeral home after a loved one has passed away and been so thankful that the funeral was already planned. Whether it was a spouse or parent who just died, having many of the funeral-related questions already answered has been such a relief for them.
Our advice for funeral pre-planning is as follows:
1. Talk to your spouse and family about your wishes.
2. Write down important obituary information and let your family know where the information is being saved.
3. Talk to a funeral home about pre-planning. Choose the services and merchandise you want.
4. Pre-pay for your plans to protect the prices and the investment.
5. Purchase a grave at the cemetery of your choosing. Buying two or more graves will help insure that your spouse and family can be buried together.
6. Contact a monument company and purchase the type of monument or marker you would like to have. Having this accomplished before you die gives you the ability to make sure it is done correctly.
At Young-Nichols Funeral Home, we have the experience needed to help you with funeral service planning. Together Brad and Bob Nichols, fourth-generation funeral directors, have over 75 years experience as licensed funeral directors. We are here to help you with your planning.