Forté debuts new name, new direct-to-employer program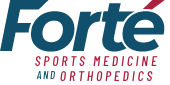 While you'll soon see a new sign going up in Tipton, you can rest assured the physicians behind it remain dedicated to a tradition of patient-focused care.
Forté Sports Medicine and Orthopedics changed its name from Methodist Sports Medicine in December as part of a rebranding process to find a name that better highlights its service.
Forté, a word for strength, refers to a person's strong suit or special ability. The name was chosen to highlight the practice's forté – providing highly-skilled, specialized care as it helps patients get back to what they do best.
Founded in 1983 as one of the country's original sports medicine practices, Forté has had a clinic in Tipton since 2018, when it moved into its current location within Indiana University Health Tipton Hospital at 1010 S. Main St. in Tipton.
"While our name changed, our tradition of focusing on our patients did not," said Dr. Mark Ritter, president of Forté Sports Medicine and Orthopedics. "We will continue to strive each day to be the best place to give care and the best place to receive care."
While Forté is widely known for the care it provides professional athletes, such as the Indianapolis Colts, its medical professionals provide the same skill and urgency when caring for workers in any industry. Forté is skilled in dealing with orthopedic injuries and workers' compensation claims.
"We believe the everyday worker is just as important as the professional athlete, which is why we provide a dedicated work comp team that works hand-in-hand with Forté's orthopedic physicians," said Dr. Kevin Condict, an orthopedic surgeon at Forté who practices in Tipton and Carmel.
Employers who send their injured workers to Forté can count on receiving the highest quality of care in a timely manner. Prompt communication is promised, so worker and employer have a clear understanding of the worker's level of injury and how it will affect work. All questions or concerns directed to Forté will be addressed promptly.
Forté's goal is to get injured workers back to work as soon as possible without sacrificing their health and safety, while also reducing healthcare costs.
To that end, Forté now provides a direct-to-employer program, allowing employers to cut costs without compromising the quality of care.
"Our DTE program is healthcare simplified," said Marty Rosenberg, CEO at Forté. "Businesses of all sizes can benefit from eliminating interactions with third-party insurance companies, transparent pricing, and direct links between medical costs and health outcomes."
For more information about Forté's direct-to-employer program, contact Tharron Daniels, sales and marketing coordinator for workers' compensation, at tharron.daniels@franciscanalliance.org or 317.525.8948.