Member Message: Michelle Owens, Ruoff Mortgage
Mortgage News:
As we see mortgage rates increase you may ask yourself, "What does this mean to me?"
Are you looking to purchase a home?
Are you looking to access the equity in your home?
Do you want to purchase a vacation home?
Accessing your equity can come in a couple of forms. There are equity loans and there are cash-out refinances. How do you choose? You would want to have a mortgage review coupled with setting financial goals. If you are looking to purchase a home or vacation home you would want to speak with a mortgage lender. You would need a pre-approval prior to making an offer on a home.
Ultimately, rates will end up reflecting in your minimum monthly payment on your mortgage. This means your buying power may decrease as rates increase. The caveat with this though is that home prices have increased in conjunction with inventory being low. One would venture that home prices will eventually decrease, as borrowers will be priced out of homes due to the increase of rates.
In addition, keep in mind that mortgage rates are still low as history shows the last time that we averaged over 5% interest was in 2009 as well as, the last time mortgage rates averaged approximately 7% was 2001. History also shows that mortgage rates were last in double digits in 1990. It appears to me, per history that the average home price may decrease as rates return to 2009 levels. This would even out the playing field of rates vs price. In our volatile world economy, this may be wishful thinking as investors continue to purchase properties with cash, as cash is King. As well as inflation effecting both rate and home prices therefore, we may be making history with higher rates and higher home prices.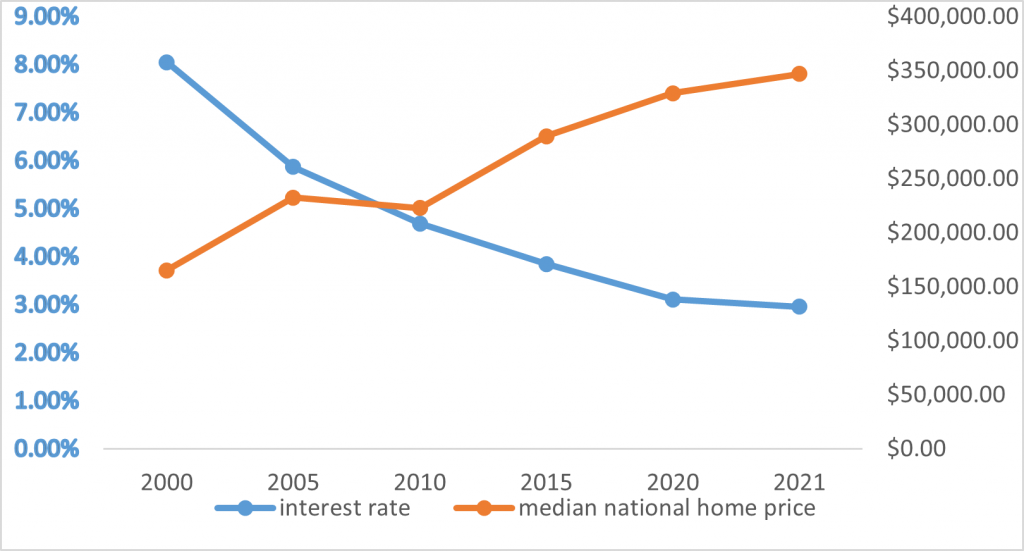 When considering a mortgage lender please keep me in mind. I am Senior Loan Officer with Ruoff Mortgage with five years in the industry. I also have 15+ years in the banking industry coupled with my Associates in Business Administration and Bachelor's in Business Management. This enables me to bring a wealth of knowledge to assist you in your mortgage and financial goals.
At Ruoff Mortgage, our mission is to guide homebuyers and homeowners at every step with experience and commitment so they can achieve their goals and move into their homes with confidence. We provide a best-in class residential mortgage experience for our customer and an enriching and fulfilling culture for our employees through transparent, respect and the highest ethical standards.